Laser Hair Removal Treatments
At the Male Skin Clinic we specialise in laser hair removal for men at our Birmingham clinics. All treatments are carried out by a male therapist.
Using the latest diode laser machine that combines three wavelengths making our laser treatments suitable for all skin types and colour.
Hair Removal Areas
– Back & Shoulders
– Arms & Legs
– Hands & Feet
– Buttocks & Groin (Hollywood)
– Chest & Stomach
– Face & Neck
Laser Hair Removal For Men
Face and body laser hair removal for men at our Birmingham Laser & Skin Clinic.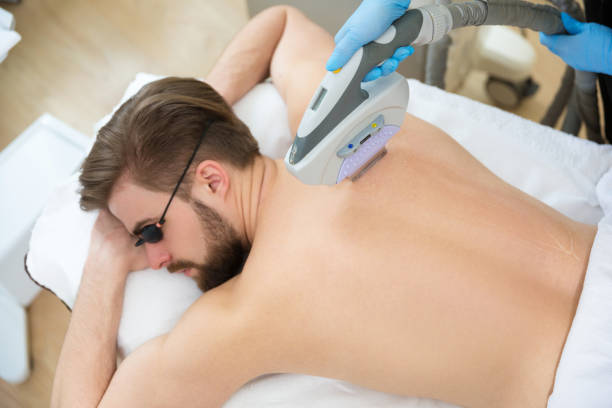 Safe & Effective Treatments For Men
Latest Technology Laser 
The male laser and skin therapist with carry out a skin consultation and patch test prior to your first full treatment. Using the latest technology to give an effective treatment quickly and with minimal discomfort.
The 3D Trilogy Ice diode machine is designed to work on all skin types and on hair with colour (pigment), making it safe and effective for everyone.
A recommendation of six treatments are advise for effective results.
Permanent Hair Reduction
Unlike other hair removal options such as waxing, threading and hair removal creams, our medical-grade diode Laser Hair Removal means hair can be reduced with each session quickly and comfortably, allowing permanent hair reduction with each treatment.

Reduce Ingrown Hairs
Laser Hair Removal works by directing concentrated light to target the hair follicle at the root. The laser inhibits the hair's ability to grow without disrupting or damaging the skin's surface, so even the most sensitive skin can be treated such as the face, neck, underarms and pubic area.
Low Price Hair Removal – Save Time & Money
Save time shaving each day, with laser hair removal you only need to shave ahead of your treatment as suggested by the male skin therapist. Whilst we use the latest technology we can also offer affordable prices and effective treatments without compromising on the results.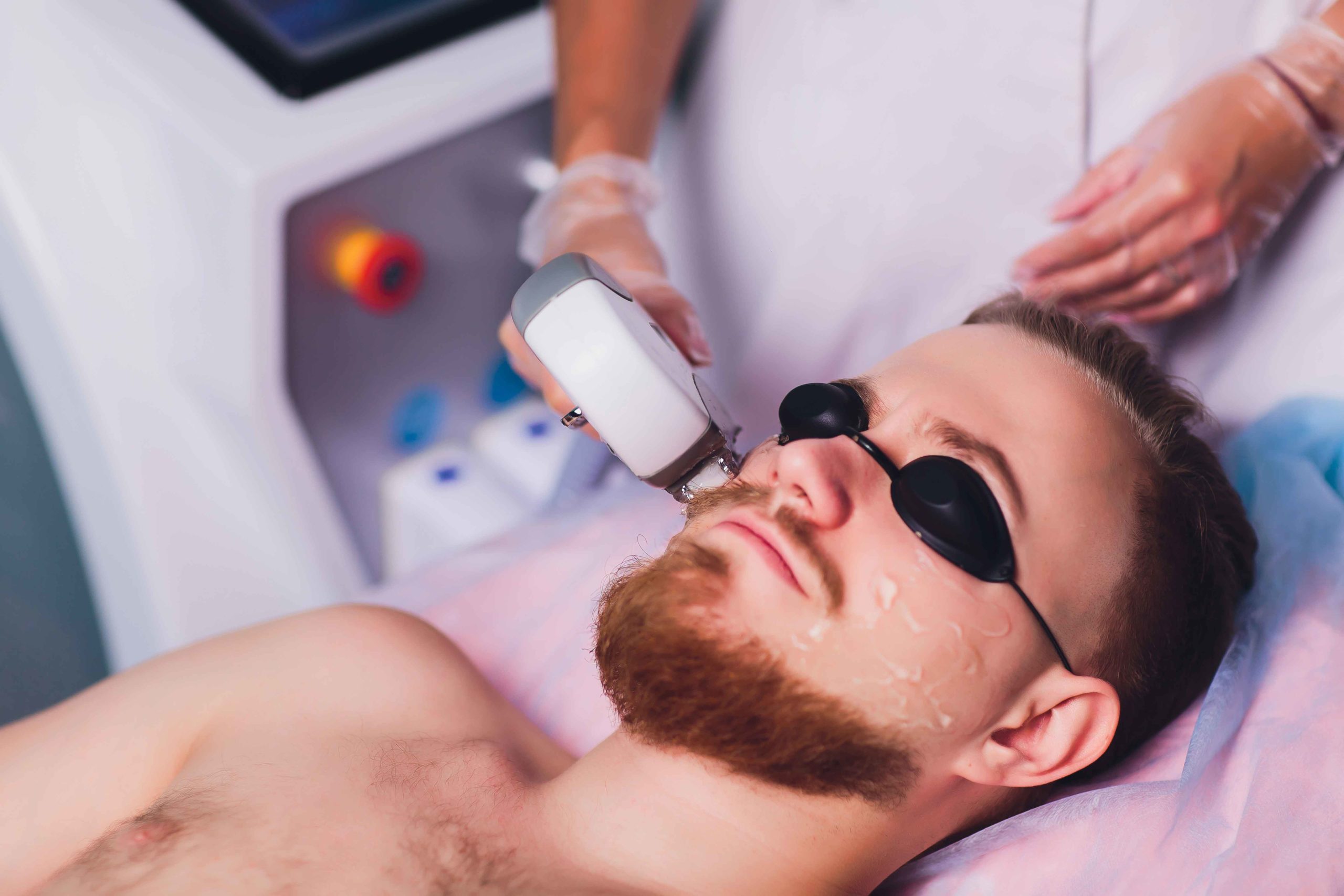 Our Male Laser & Skin Clinics
802 Stratford Road, Sparkhill, Birmingham B11 4BS
63 Alcester Road South, Kings Heath, Birmingham B14 7JG
0121 461 4175
Treatment Hours
12.00pm to 8:00pm
By Appointment Only
All Treatments By A Male Therapist
Our Facilities & Services
Our Birmingham skin clinic offers a range of core treatments for men's skin and hair removal treatments. Our clinic uses the latest technology to minimise the pain yet still give maximum results and value for money. All supported with our many years of experience and knowledge within the skin care and aesthetics industry.
Frequently Asked Questions
Does Laser Hair Removal Work?
Laser Hair Removal works to destroy the hair follicles in the skin using light energy.
We the knowledge of your hair growth cycles to identify which stage the body hair is in and evaluate when future sessions are required, to catch the hair at the right time with the IPL or Diode laser treatment.
All body hair grows in stages and these stages are called Anagen, Catagen and Telogen.
Your entire body has a total of about 5 million hair follicles. You're born with all of your hair follicles and don't develop more as you age. Our Laser hair removal works to permanently damage and destroy the active hair growing folicals so you reduce the number of active hair folicals per treatment.
20% Hair Reduction With Each Session
We use the latest technology in both IPL and Diode laser devices to target the root of the hairs and emits powerful visible and invisible light pulses to the hairs that have colour. The dark pigment in the hair follicles soak up the heat from the laser which then damages the hair follicles.
With each treatment, you will see up to 20% hair reduction over the session.
No White Hairs
Our laser treatments are suitable for all skin types where the hair has colour in to absorb the laser, white hairs can not be treated with laser hair removal and would require electolysis.
What areas can I have laser hair removal?
Men have a lot of active hair follicles, almost over the whole body. 
Your full body hair can be treated with laser hair removal, covering the face, chest, arms, back, shoulders, legs, hands, feet, nipples, groin, buttocks, intimate area and pubic areas. 
Under the eyebrows, inside the nostrils, and inside the ears can not be treated with the laser.
During the Free laser consultation
Your consultation also includes your skin patch test if you are suitable for the laser hair removal treatment.
Identify any medical conditions or medication that may put you at risk
Understand your lifestyle
Visually identify any skin conditions
What areas would you like treated with laser hair removal
Photos, drawings and notes are made to record the skin condition and track progress of the hair reduction.
Then complete a small patch test suited to your hair and skin type in the area you are looking to treat
The Patch Test
Shave the area where the patch test will be performed
Cleanse the skin
From the consultation set the machine accordingly to your hair/skin type
Record the outcome and book first treatment
If the is a reaction to the patch test, contact the clinic to discuss.
How Soon Can I Book My First Session?
Your first session can be 48 hours after your patch test to allow time to see if there are any reactions.
Preparing for first laser hair removal session
Keep the treatment area clean and free from creams, make-up or perfumed products.
Shave the area 2 to 12 hours prior to treatment.
Do not use hair removal creams 2 weeks prior to treatment.
The use of tanning creams must be discontinued 2 weeks before treatment.
Tanned skin can not be treated for up to 2 weeks. Sensitive or sunburned skin will not be treated.
Avoid bleaching, plucking, threading or waxing hair in the treatment area for 4 weeks prior to
treatment. Remove hair by shaving only during the course of the treatment.
It is recommended to use face or body scrubs 1 week before treatment to avoid ingrown hairs.
The laser treatment will not continue while you have cold sores, are on antibiotics, are using
benzoyl peroxide, become pregnant or have a change in medication following the consultation.
After the laser hair removal treatmemt
Do not apply deodorants/perfumes for 24-48 hours on the treated area
Avoid hots baths, sauna, massage, swimming or heavy workout for 2-3 days
Your skin may have increased sensitivity to the sun and we recommend that you use a factor 30+ sunscreen and avoid direct sun exposure on the treated area
Do not using any skincare that contain AHA, Glycolic Acid, Salicylic Acid or Retinoic Acid (e.g. Retin A) for 1 week following treatment.
If you experience any redness or swelling or itching on treated area, apply aloe vera or ice pack at home if required.
How much does diode laser hair removal for men cost?
Can you have laser on men's pubic area?
Removing hair in the men's pubic area 
Men are generally more hairy, and that includes the pubic hair that grows around the groin, penis shaft area, testicles, buttocks and anus.
All of these male intimate pubic areas can be treated using our diode laser hair removal.  
Normal Brazilian includes hair removal on:
Upper Thigh Area
Pubic area leaving a small strip/area of hair above the genitals
Genital area
Full Brazilian includes hair removal on:
Upper Thigh Area
Full pubic area
Genital area
Perineum (the area between the anus and the scrotum).
Hollywood includes hair removal on:
Upper Thigh Area
Full pubic area
Genital area
Perineum (the area between the anus and the scrotum)
Butt Cheeks
Does laser hair removal hurt?
Is it painful?
Most people who have had laser hair removal with us say it isn't painful, but it can be a little uncomfortable with the heat during the treatment. With our machines, you wont feel the sensation of an elastic band flicked repeatedly against the skin, just the feeling of warmth. Our laser machines use ice cooling to make the treatment as comfortable as possible for our clients. The ice cooling aids comfort during the treatment, particularly when treating sensitive areas such as the face or male pubic area.
Our Blog
Stay ahead with news on the our latest treatments, products and services. We regularly post new information blogs to keep you updated. 
An Eve Taylor full body scrub for men is a much needed treatment as it helps you relax and refresh your skin. Skin cleasing and massaged sea salt with aromatherapy oils remove all your dead skin, bolster your circulation and re-hydrate every part of your body while...
Get in Touch
Open Hours
Mon – Fri — 12:00pm – 8:00pm
By Appointment Only
Treatments By A Male Therapist